Lapeer: Where Bathing Products Are Made
Teamwork, community and big smiles power DFC's plant in Lapeer, MI
The Delta Faucet team in Lapeer, MI, may be relatively small in number, but their output and community impact loom large.
"And we have the biggest smiles," says Trevor Hopster, the plant manager, citing the most telling aspect of what it's like to work here.  
Lapeer employees take great pride in making quality products for Delta Faucet Company's bath side of the business. In operation since 1963, the Lapeer plant is the smallest of DFC's manufacturing locations, with 15 salaried employees and 122 hourly associates. Yet "every individual is important to our success," says Jennifer Makowski, people operations manager. "We hold ourselves accountable to meet our commitments and are dedicated to working collaboratively for the success of the business."
The Lapeer process has two extruders turning plastic pellets into large sheets while six vacuum formers turn those sheets into tubs, tub walls, shower bases and shower walls.
Lapeer is located in the backyard of Michigan's massive automotive supply industry and its employees have witnessed the ups and downs of that business up close. As a result, they know that they have something special, having stayed solidly in business for nearly 50 years.
"It is refreshing to work in a manufacturing location that does the right thing for the business," says Jennifer, "and for our employees."
COVID-19 Response & Active Community Involvement
This credo was put to the test when the COVID-19 pandemic hit earlier this year.
"Since the coronavirus struck, we have had to change our way of life in Lapeer," says Trevor. "Since mid-March, we have added sanitation checklists, cleaning schedules, gaps between shifts and distancing measures, and distributed face coverings and redesigned cells, among taking other precautions. I believe it's safe to say that things will continue to change, and we will continue to adjust as we learn more."
Although things remain uncertain in this new era, there are countless success stories, too. In early April, the leadership team in Lapeer provided individually wrapped dinners for every employee. The meals – made by a local catering company – were made to feed a family of four and delivered to the team drive-through style, and leftover meals were donated to the Lapeer County Sheriff's Office.
Throughout its history, Lapeer has been active in the community, supporting local high school and middle school robotics teams, youth hockey and the high school cheer team. It has donated to Habitat for Humanity and Lapeer County Youth 4H programs through charity auctions. The Company also works with a group fighting the scourge of domestic violence and has partnered with a local group supporting veterans.
A partnership with engineering students at nearby Kettering University is a particular point of pride. It offers the students a chance to do work in the real world, not just a hypothetical case study.
"They meet with the team here at DFC," Jennifer says of the program, which began in 2015, "collect and analyze data, form possible solutions and develop a plan to implement."
People Powering the Plant
LaFonza Washington, a.k.a. Fonz, arrived at DFC Lapeer shortly after high school, nervous about his first manufacturing job. He has worked in the extrusion department his entire 20-year career, starting out as a grinder, material handler and operator, eventually rising to team leader for the second shift. This family man who attended college while working at DFC Lapeer is a huge Michigan football and basketball fan, and was himself quite an athlete in high school, taking his football team to the state finals.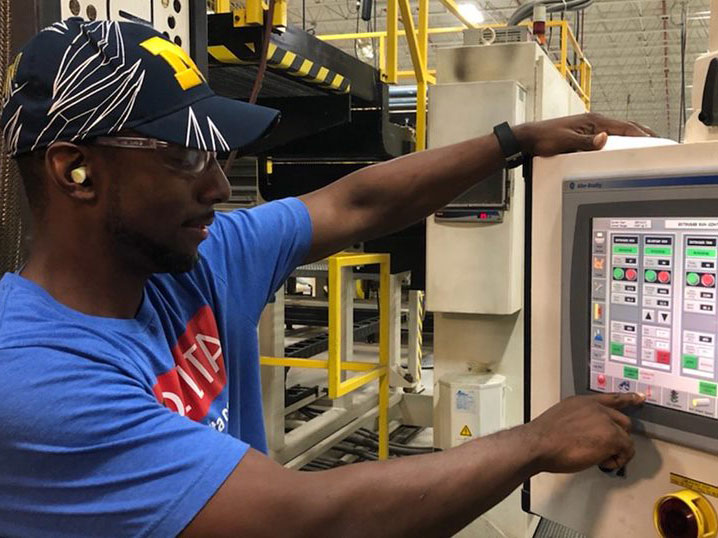 Ashley Green came on board in 2011, starting out in vacuum forming, and was a quick learner straight out of high school. For the last five years she has worked in shipping, becoming a team leader. She's "energetic, dedicated and willing to help anyone out, and usually has a smile on her face," says Scott Allen, production manager.
Ashley Young is new to the team and has impressed everyone by being a quick learner as a production worker in the vacuum forming department. Serious and on the quiet side, she is focused on details, safety and quality. For Ashley, DFC Lapeer is a family affair. Her father, Matt Young, also works in the plant.