Delta Faucet Company Makes Changes and Moves Forward
DFC responded immediately to the coronavirus pandemic to maintain a safe and productive workplace
As cities and states throughout the United States began shutting down in response to the coronavirus pandemic, Delta Faucet Company initiated major changes in the workplace for its employees.
On March 18, CEO Ken Roberts shared news of a DFC COVID-19 Response Planning Team and set in motion early actions that included alternative working arrangements, resources for a remote workforce, and processes for addressing the ever-changing nature of the illness and its effects on employees.
"These days are a true test of our agility," Ken wrote to the Company in March. "They are challenging us to think differently about how we work and how we'll move forward."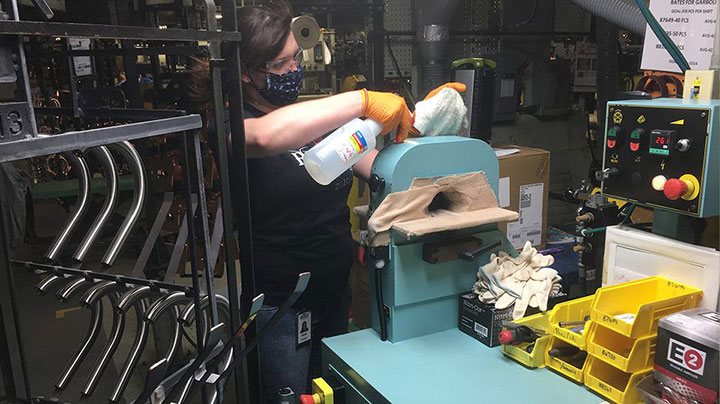 A New Normal
Today, three months later, DFC continues to move forward in myriad ways — from large segments of the Company working remotely to colleagues hosting weekly virtual coffee breaks to transforming what was meant to be an in-person workshop, "DFC Business Acumen for Leaders," into a two-day, online session. DFC immediately began adapting to this new world and shaping it for the future that, in large part, is still a work in progress.
Todd Harrison, director, organizational effectiveness, oversaw the Business Acumen workshop, in which 27 Company leaders participated. The event was planned to help participants understand how their role fits into the bigger business picture and to better equip them to make decisions aligned with DFC's strategic goals.
"This training was originally designed to support our leaders' abilities to make better business decisions in support of our short- and long-term strategies," Todd says. "The current COVID-19 environment in which we are living today makes this training even more vital, especially during this economically challenging period where — now more than ever — we need our leaders to see themselves as business leaders, not just functional experts."
Frederick Chang, director, trade sales west, attended the session and was impressed by DFC's ability to successfully transition to a virtual setting.
"In a time when DFC is facing uncertainty," he says, "when employees are facing uncertainty, the Business Acumen training exemplifies our commitment to invest in people."
A Dynamic Response Plan
Masco's president and CEO Keith Allman immediately addressed staff, as well, and shared how Masco's health and safety leaders were working with a task force to address the changes the Company faced.
"While our response plan is dynamic and is being updated continually based on new information, the goal to provide the safest environment possible for our employees will not change," Keith wrote. "While the outbreak will impact each of our business units in unique and perhaps unpredictable ways, companies, like individuals, have the greatest opportunity for growth when they are facing challenges that require agile thinking and new ways of operating."
Suzanne Chreene, senior director, national trade sales, is a COVID-19 task force member who's been working with channel leads to ensure DFC's rep agencies and customers are informed about what's happening at the Company and how it will impact their businesses.
"It's been tough for us," Suzanne says. "We're used to face-to-face meetings, teaching others about our products and making connections. We're learning to connect in different ways so we can be there when our customers need us."