Career Program Unlocks a World of Opportunities
A supportive and inspiring environment paves the way for leadership development
That time period between graduating college and getting your first job is rarely an easy one. For the outgoing undergrad, the transition from dorm life to the much-fabled "real world" is often fraught with frantic job searching, awkward interviewing and, most often, a less-than-ideal first job.
Luckily, companies have caught wind of this, and many offer rotational programs that allow those in their first job to get the time and space to figure out what they do best — and network with a variety of teams in the process. Masco Corporation is one such company, offering an early-career leadership development program known as Accelerated Career Experience (ACE).
Over the course of two to three years, program participants gain cross-functional experience across different business units within Masco. For all participants, one rotation is in a commercial (marketing/sales) role and one is in an operational (manufacturing/supply chain) responsibility, allowing for ample opportunity to exercise both sides of the brain and gain a truly multifaceted career foundation.
A Well-Rounded Experience
ACE program graduates like Samantha Chiprean are grateful for that multidimensional experience. Samantha, a native of Erie, PA, was specifically looking for rotational job programs as she was finishing her degree in accounting and finance at Penn State
"I started looking earlier than most," she says, "because I was terrified that I wouldn't get a job."
Samantha applied to several companies but felt most excited about Masco from the get-go.
"Right from the phone interview, I was struck by how nice and welcoming the interviewer was," Samantha says, noting that this feeling continued through her in-person interviews. "Office culture is really important to me, so I decided to go with Masco."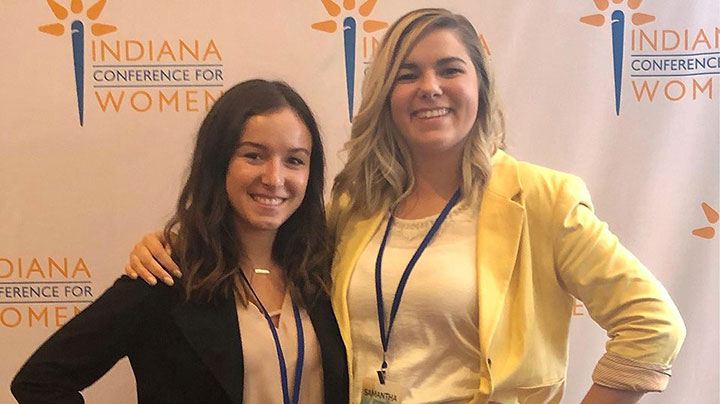 Most of Samantha's interest (and experience) was in supply chain, but she still didn't want to commit to that route without pursuing other options. While her first rotation at Masco headquarters was in supply chain, her second rotation at Delta Faucet Company in Indianapolis was in product marketing. She enjoyed that stint, noting that "marketing pushed me to develop in areas I wouldn't have been able to develop in a supply chain role." Most notably, her first manager at Masco helped her learn how to not just analyze data, but to develop the skills needed to discuss what the data meant with other teams and to explain why they should care about it.
"My boss told me, 'Not everyone cares about the data as much as you do,'" she recalls, "'so you need to be able to talk to other groups about why it matters to them.'"
A Supportive and Inspiring Environment
Despite learning so much on the marketing side, Samantha expressed interest in moving back to the operational side of the business, and she is now full-time at DFC as a supply planning analyst.​​​​​​​ and greatly enjoying the experience.
"I want to push myself to learn even more," she says, "and management here is so supportive, recognizing that people need constant stretch assignments to stay excited about work. The company is really great about allowing for both flexibility and growth in people's careers."
Alongside ACE program graduates like Samantha who successfully made the transition to fulfilling full-time careers here, there are current program participants making their mark in every area of the business.
Mark Castellano, for example, is a University of Michigan graduate who is completing a rotation in marketing as an associate product manager (leading internal and competitive product analysis) and Cortney Klimkowski is a Grand Valley State University graduate who's working as an ACE forecast analyst in supply chain.
The myriad specialties in this small trio alone shows the true depth and range of the ACE program — and the importance of creating a supportive, inspiring environment for these ambitious young people who are just starting to unlock their career potential.